The rise in sales of Electric Vehicles
Whilst we've blogged quite a lot lately about the ever-increasing popularity of electric vehicles, we thought that the latest sales figures (end of April 21) released by the Society of Motor Manufacturers & Traders (SMMT) are absolutely worthy of mention, a little bit of scrutiny and a lot of praise.
As you can see from the screen shot below, new registrations for all-electric cars (BEV) have again grown Year To Date; from 19,630 in 2020 to an astonishing 40,931 in 2021; a huge 108.5% increase.
As you'll also note, the market share has grown from 4% to 7.2%; interestingly, during the same period, the market share for Diesel has reduced from 19% to 11%. That particular gap (EV vs Diesel) is decreasing pretty rapidly, which leads us to wonder if the end is nigh for the former darling of Company Fleets and motorway-mile crunchers? In fact, all other 'alternatively' fuelled vehicles are seeing their own respective sales upticks, which is a massive positive for more sustainable motoring.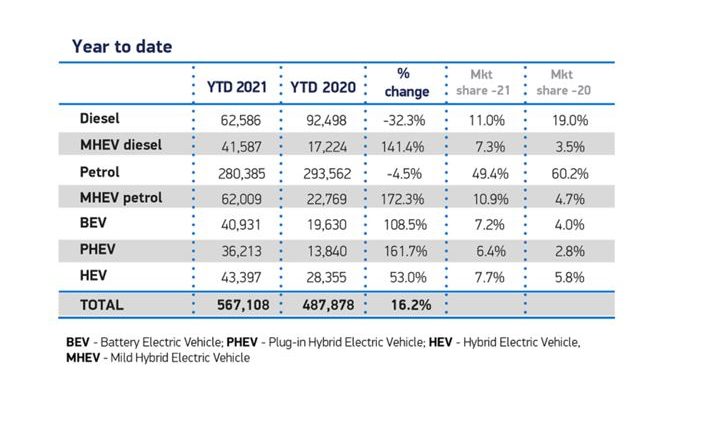 There are now more than 246,000 EVs on the UK's roads with one of the main protagonists being Tesla's Model 3, which recently broke into the Top 10 of cars sold in the UK.
As we're sure you'll agree, these numbers are continued fantastic news for the EV industry. Although there's still some way to go for EVs to be top of the sales tree, the impending release of numerous new EVs over the next three years coupled with greater consumer awareness, will surely mean that the tide keeps turning, irreversibly……