Way back in 2018 (remember the world then?), the US broadcast company Hulu launched a TV series called 'The First'. It was sci-fi, set in the near-future (2030), all about a group of astronauts trying to become the first people to land on Mars.
One of the lead characters of the show, Laz Ingram, drives a Range Rover with the following future-centric features:
The Range Rover Sport is fully electric with a suspension system that adapts to its driver's desire for performance
The exterior of the Range Rover Sport exhibits a privacy glass texture that wraps around the entire SUV to enhance reflectivity and transparency
The SUV features independent driving competences and sophisticated amenities like a retractable steering wheel and 360-degree sensor to monitor on-road activity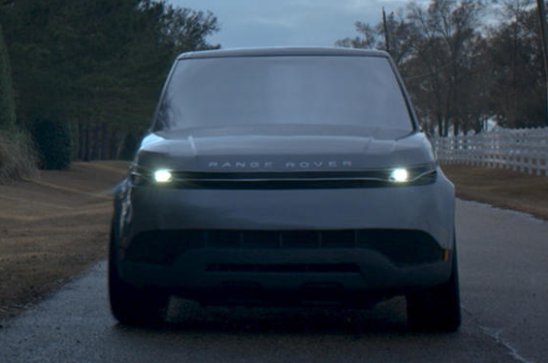 Three years since the show aired, but now only nine years from when it was set, Land Rover have announced their plans to release a fully electric Range Rover, which will go on sale within the next three years. It will be the first of six fully electric Land Rovers, spearheading a full-range of battery-powered models to follow.
As avid readers of our blogs will know, we're fully supportive of any motor manufacturer that shows signs of embracing the move to alternative fuel sources. So, you can understand our pleasure around this news from a brand often tarnished with the 'gas-guzzler' accusation.
Along with a petrol-electric plug-in hybrid version and, for the first time, the option of an additional two passengers with a family-friendly seven seat layout, bosses at JLR hope that the 'electrification' of the British designed and built Range Rover off-roader will help banish forever its un-environmentally friendly reputation.
The model has been specially designed on a flexible new platform which allows engineers to power it with both electric motors and batteries, as well as more conventional petrol, diesel and hybrid propulsion, with prices starting from £94,400
JLR big-wigs state that the looks are 'more evolutionary than revolutionary', though the rear light cluster is a departure from previous Range Rover design and not like any other model in the British marque's line up.
JLR Chief Executive, Thierry Bollore, said of his firm's electric future: 'It writes the next chapter in the unique story of pioneering innovation that has been a Range Rover hallmark for 50 years.'
So here are 10 things you need to know about the new Range Rover!
The First Fully-Electric Land Rover Model
The 2024 electric Range Rover with be Land Rover's first battery-only model brought to market. It has sold plug-in hybrid versions of the luxury SUV in the previous generation and PHEV examples across the rest of the range, including the Land Rover Defender PHEV.
You can get a seven-seat version
A seven-seater Range Rover with a third row of two seats is now an option for the first time in the extended-wheelbase version. Customers can also opt for a standard five-seater. 
It has All-Wheel steering
This is said to improve high speed stability and low speed manoeuvrability. 
Design Changes to the rear
The rear of the new Range Rover shows the biggest change in design with large 'hidden until lit' lights and indicators in the dark panel that runs across the top section of the tailgate and then drops down around the side of the lower part of the boot door. 
An interior that's suitable for Vegans
Non leather and fabrics including Ultrafabrics and Kvadrat wool-blend, and others made from recycled plastics and fabrics, are offered to those with vegan tastes or ethical issues with animal hides.
Range Rover's biggest infotainment screen ever
The new 13.1-inch curved floating touch-screen – with graphics based around a three panel lay-out – dominates the elegant dashboard and is the biggest display to ever be installed in a Range Rover. Rear passengers have a new rear-seat entertainment system with 11.4-inch screens for smart TV via in-car wi-fi.
Power assisted doors all round
All four passenger doors are power-assisted – a first for Land Rover.
Split rear tailgate gets practicality tweaks
The split rear tailgate – a feature since 1970 – is updated with new features. Inside the load-space floor has flexible panels to partition areas for easier load-lugging. 
This is a Range Rover you can have a full blown conversation with. It features voice control and commands for music, navigation and traffic updates via Amazon 'Alexa', as well as using its artificial intelligence to check the news and weather, schedule meetings, and even turn on your lights at home. 
The new Range Rover enjoys 'pre-emptive suspension' which uses chassis control and Electronic Air Suspension to 'read' the road ahead via the sat-nav and sensors and prime the vehicle for looming bumps and corners. 
So, while conquering the red planet (and wrap-around privacy glass!) may have to wait a while, planet Earth's pre-eminent maker of SUVs is busy grasping the EV nettle.
How can you not be excited by this news, or at least be excited to get a glimpse of something that may look as futuristic as the 'Rover' seen in First?